Gerður Helgadóttir
Gerður Helgadóttir
(1928-1975)
Gerður Helgadóttir was a versatile and prolific artist. She studied at the Icelandic College of Arts and Handicraft, then later in Florence, and in Paris where she spent most of her working life. With her geometric iron sculptures in the 1950s she established herself as a pioneer in three-dimensional abstract sculpture in Iceland. Later she worked exclusively using iron filaments which formed drawings in the sculptural space. Her art underwent a radical change when she began welding in bronze. The forms of her works became irregular and reveal an affinity with lyrical abstraction. After she visited Egypt in 1966, the influence of ancient Egyptian art can be discerned. From 1970 onwards she turned to massive works from plaster, clay and even concrete, characterized by simple circular forms and variations on the theme of motion. Many of these works were conceived as prototypes for large-scale sculptures.
Her works in stained glass are also remarkable. Her works, sculptures, mosaics and stained glass vindows can be widely viewed in and outside churches and official buildings in Iceland.
Gerður´s works on the
internet
.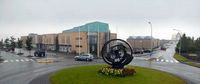 Kópavogur Art Museum –
Gerðarsafn
, is one of Iceland's newest art museums, inaugurated in 1994, and the largest outside Reykjavík. Its collection comprises some 2,500 works. The Gerður Helgadóttir collection, donated to the town of Kópavogur by the heirs of the sculptress in 1977, contains around 1,400 works.
Another 300 works are in the bequest by illustrator Barbara Árnason and painter/sculptor Magnús Á. Árnason. Other works in the collection have been purchased by Kópavogur Arts and Culture Committee and are almost exclusively by Icelandic artists. In 2001, Kópavogur Art Museum took custody of the private collection owned by Þorvaldur Guðmundsson and his wife Ingibjörg Guðmundsdóttir. Different exhibitions are compiled every year from the more than 1,000 works that make up this largest private collection in Iceland. A wide range of exhibitions of Icelandic modern and contemporary art are staged at the museum and international exhibitions are also held in cooperation with museums and institutes from other countries.
Skálholtskirkja
Works by Gerður in Skálholt Church.